DuckDuckGo: An Alternative Search Engine
With Google's biases coming to light in recent years, there's been a growing interest in alternative search engines. You may have heard of Bing and Yahoo, but have you heard of DuckDuckGo? It's been gaining popularity lately. This is what I like about it:
No Tracking
DuckDuckGo's main selling point is they don't store any personal information at all and don't sell it to advertisers. No IP address tracking, no search history tracking, no ad targeting.
Minimal to No Ads
There are very few ads that come up in the search results and there is an option in the settings to turn them off! A maximum of two ads will show on the page, so they hardly interfere with your searches and definitely don't take up half the page as Google's page results can. Less clutter and more organic search results.
Doesn't Skew Search Results
It shows you the actual search results; not a filtered, personalised version, based on your browsing patterns. No echo chambers here.
No Biased Autocomplete
The auto-suggest feature that completes queries as you type doesn't show a bias and omit certain trending searches. Take note, Google.
Easier To Read
Because there is less clutter on the page and more white space, it makes the results clearer and easier to read. Brand icons show next to results and it makes it easier to differentiate one listing from the other, when scanning results. I like the minimalistic interface.
Uses Encryption
It diverts you to the secure version (SSL) of the website automatically. Secure browsing is important for sending confidential information, passwords, credit cards over the internet, etc. So check for HTTPS in the URL when you're buying online! Most browsers will now show a padlock symbol too.
Maps Are Interactive
When doing a local search that comes up with a map, you can move it around, zoom in and out and get directions. You can even change the map source from Apple Maps, Google Maps, etc.
Plays Videos
In the video search, you can play videos directly, without having to be redirected anywhere. Very handy.
Infinite Scroll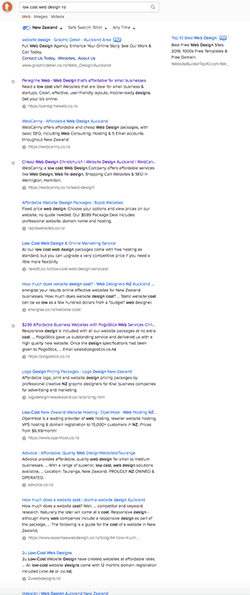 No need to click on page 2 for more links. You can just keep scrolling and it will keep generating results.
Appearance Options
You can change the whole colour scheme and change link colours and even the font. You can toggle a tick mark next to visited sites too. All useful features for making search results that much clearer and easier to see.
Safe Search
Pornography doesn't show up in images or searches by default. A convenient feature and family-friendly.
There you go. Now you know a lot more about a search engine that you've probably never heard of before. There are a lot more really cool technical features, but these are my favourite reasons I enjoy using DuckDuckGo. Other private search engines of note are Startpage, Ecosia and Privado. Set your favourite search engine as the default in your browser and you're good to go.